About me and how I work
Deborah Cosbey -  Lic Ac, MBAcC,  Dip CHM, Dip Buqi, MBII.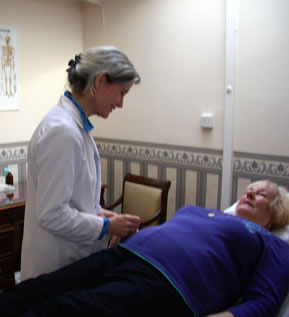 I have always been interested in working with energy and practised Ki Aikido for 16 years. This is a martial art where great emphasis is placed on the sensing and leading of an opponent's energy.
In 1985 I graduating from in the Five Element style of acupuncture at The College of Traditional Acupuncture, Leamington Spa. In 1993 I completed my training in the other main style of acupuncture practised in the West, known as TCM, at the College of Integrated Chinese Medicine.
I became a fully qualified Chinese Herbalist in 1998, again graduating from the CICM in Reading.
After practising Qi Gong for several years I started working with Dr Shen Hongxun and in 1996 qualified as a Buqi Healer, then going on to become a fully qualified Buqi Therapist.

For over 35 years I have enjoyed helping my patients with their health and wellbeing. I find it very rewarding to use both the Five Element and TCM styles of acupuncture to enable them to move towards their physical and emotional potential.
I understand the necessity of constantly updating my skills and regularly attend professional meetings. Taking part in regular Qi Gong classes and seminars strengthens and refines my energy. I regard this as this as essential when working as an acupuncturist or Qi Gong practitioner.
I am a full member of the BAcC, and the BII,
and am covered by Professional Indemnity and Public Liability Insurance.
I am on a voluntary register that has been accredited by the Professional Standards Authority.
As I have a provider number for Norwich Union, Aviva, and WPA private insurers your policy may cover acupuncture.
You can view a full list of insurers on the British Acupuncture Council website.